The 3 Things I've Learned
'Tis the season to be jolly, fa la la la la, la la la la. It's almost Christmas and as I'm in New York, I'm more excited for the holidays than I ever have been (maybe I already bought an ugly reindeer sweater, oops). Sadly, this also means that my time in the US is almost over. I left D.C. a couple of days ago with tears welling up, and in a few days, I'm flying back to the (good) old Belgium. In this last blog post *sobbing* I'd like to share with you my biggest takeaways of these last few months.
1. Just say yes
My most important tip is to say yes to every new opportunity that comes across. Informational interview? Yes. Exploring the city with a bunch of friends while you should be doing homework? Yes. Taking off to Philly for the weekend? Yes. When on exchange, the biggest mistake you can make is saying no to things that could turn out to be amazing and make your time even better. Personally, I wished to have said yes a couple of more times. Even if you have a ton of other obligations, you'll find a way to work it out as it will all be worthwhile!
2. Explore, but breathe
Saying yes to almost everything doesn't mean that it's not a good thing to just relax and take a moment for yourself from time to time. It felt really good to just watch an episode of a series once in a while just to have that one moment for yourself that lets you catch your breath again. And don't feel sorry for not doing anything fun with friends that one moment, since you will need that alone-time sometimes, believe me.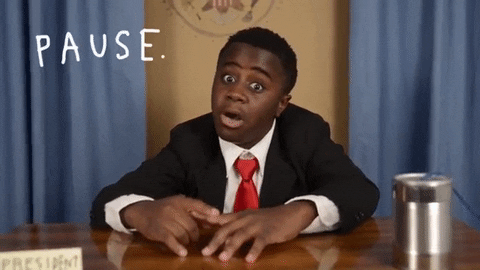 courtesy of giphy.com
3. Take a moment to soak it all in
When you're busy interning, taking evening courses and LEAD sessions on Fridays, you'll notice that you sometimes forget to take a moment to realize how amazing the things are you're doing in these couple of months. Personally, a good way to do this was writing this blog. This was a time in which I could reflect on my semester and the awesome things it brought me. So I would suggest to become a blogger so that you're required to sit down once in a while and soak in the great experience you're being part of!
Overall, I am so glad and grateful that I was able to participate in such an amazing experience as this. This semester sure was an adventure and also a bit of a challenge coming here overseas by myself for four months, but I would do it all again in just one second. I'm so happy that I had the chance to live in the United States' capital and this experience changed me in ways that I couldn't have imagined before.
I'll say goodbye to y'all with a haiku that we had to write in our last LEAD session:
The RAF at NoMA
In the heart of the city
Where friendships were made
courtesy of tenor.co
Your Ever-so-grateful European,
Eline