TWC to NYC
While I have had the opportunity to see what it's like to live in many cities around the world, I don't know if I got a true sense of what it's like to live NYC. Admittedly, I was the definition of a tourist when I traveled from D.C. to NYC this past weekend, but I think the one thing I took away from the never-ending rows of buildings was the energy that the city has. Even after a full day of travel and walking, the next morning I was still compelled to get going and explore. I don't know what life is like for locals, but if its anything like what I observed, then it can't be a bad place!
Quiet observation is key to really getting to know your surroundings. Looking around while talking to the person next to you is a great way to explore! I often get scolded by the people I am with, as it seems that I am not really present in the conversation (because my eyes dart from one thing to the next), but time and time again, I assure them I am listening! There was so much to see and do in NYC, but one thing I really appreciated was the fact that no matter where you went, people had a place to go and unwind.
When I visited New York, I had the opportunity to go to some great spots where I was assured only 'locals' went to. Which brought me to think about what a New York local is. Almost everyone you meet is from some place else! But going back to the local spots, I was surprised to find that where NYC'ers are happiest are in pubs and restaurants, not very much unlike spots in my hometown! I always had this idea of people in New York going around to very high-class establishments, with their drivers and doormen waiting outside. I am sure there are places like that (not many large cities are void of hangouts for the rich and super rich), but I was happy to see that regular people, interns, students and people just starting out all had a place in this amazing city.
What do I do while in NYC? Well as mentioned before, I was a pretty big tourist while I was there. It was the first time that I had been in the city since the 6th grade, and it was also a chance for me to see some of my cousins that I hadn't seen in 10 years! Lucky for me, we were all the same age, so our interests and things we wanted to do lined up nicely.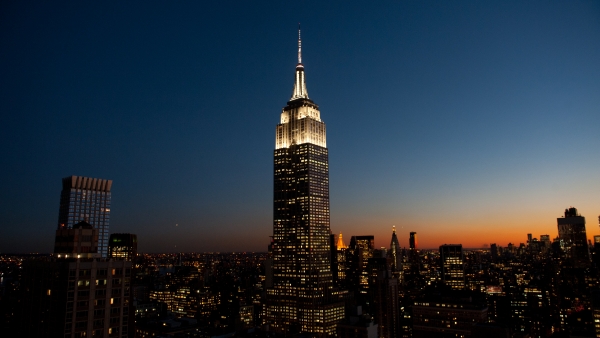 We stayed near Times Square, and my cousin was awesome enough to request a room with a view. The desk manager looked at me and said "Ah! So you're the Canadian! I hope you enjoy what you see!" I didn't know it then, but he was kind enough to give us a room directly under the Empire State building. Of course, like the 50 million other tourists, I went to the Brooklyn Bridge to take photos of the skyline. The trip was great because not only did I get to go to NYC, but I also took a day to go to Connecticut to visit my aunt and uncle. It was a great way to spend time with family and reconnect.
Before I knew it, I was back in D.C. My Amtrak ticket was only $140 roundtrip, so I recommend all TWC interns consider a trip to the Big Apple (especially those from far away).