What I Forgot to Tell You
Only one week left to go, so the time has come to shed light on some events that I haven't discussed in my blog. With this blog post, I will try to give a rundown of all events that somehow did not end up in my blog, although they are pretty interesting.
This weekend I went to The Nutcracker, a famous ballet performance by Pyotr Ilyich Tchaikovsky, in Warner's Theatre. Tchaikovsky was a Russian composer, and although not everyone sees Russia as a part of Europe, I think it is close enough to feel a little bit home. Anyway, I have a huge culture gap so I had absolutely no idea what I was getting into. I had never seen The Nutcracker or a ballet performance in general, but you know, studying abroad for one semester is all about having new experiences! So it was time for me to try something new. Again. I can summarize the ballet as follows: great performance of an incredibly weird story. I still have absolutely no idea of what the story was actually about. I am not really a huge fan of fantasy stories, and a nutcracker coming alive is not really something that happens in the real world. The pace of the events was very confusing: suddenly we were in a fantasy world, and then we somehow got back to the real world, and then back to the fantasy world. Or was it the other way around? Anyway, it was very confusing, and my brain was not really ready for such a deep performance. but the dances, decor, and costumes, and stuff were really great!
The National Christmas Tree: probably the only tree with its own website!
Before going to The Nutcracker, I went to the White House and the National Archives. I was with someone who had not been to the White House, and I could not believe my ears! How can you live in D.C. for four months without ever seeing the White House? So obviously we immediately went over there. And it looked great! With a huge Christmas tree and then some little ones, it was beautiful. Also all the Christmas lights were great. An environmental nightmare, but it looks nice! I had never been to the National Archives, so that was our next stop. Especially the Declaration of Independence, the Constitution and the Bill of Rights are a must see. However, there is not a lot to be seen. The text of all these original documents has almost become invisible, it appears that paper does not really stand the test of time very well. I am actually wondering how important for instance the preservation of the Declaration of Independence is. If the text becomes really invisible in a few decades, does this mean that the United States becomes a British colony again? This would be an interesting thought piece!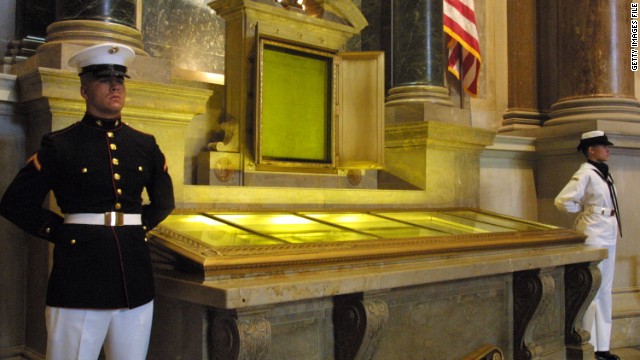 This is what it actually looks like. You can't really see it, but the light is provided by little yellow lights. It is better for the conservation of the documents. And it kind of creates a cozy Christmas atmosphere, which is always a plus!
A few weeks ago, I also went to the Museum of the American Indian. As a huge fan of my blog, you obviously remember that I was not a really big fan of the museum. The most remarkable part was actually the museum building. However, the museum opened a new exhibition, and because I am willing to give everyone a second chance, I was more than happy to go there again! And it turned out to be one of the best exhibitions I have seen in D.C. One of the first treaties between the newly founded United States of America and the Native Americans was exhibited in the museum. Contrary to the documents in the National Archives, you could actually read them. President George Washington's signature was perfectly visible! And yes, I like history and maybe you think that is weird and crazy, but I found this super exciting!
Another major event was the Concert for Valor on Veteran's Day. The concert attracted a huge number of celebrities and thus also a huge number of spectators. Including me! Although I was not particularly looking forward to waiting outside for hours in the cold before the concert was actually going to start, I got over it and I decided to go. The weather was great, and the three hours we waited flew by like nothing! I do feel sorry though for the people who were like nine hours early. I am not really an impatient person, but there are limits… The concert was really cool, even though I did not know some of the stars that performed. Carrie Underwood is someone I had never heard of and somehow, that sounded like a disaster to some of my American friends!
These are only some of the events that I went to; I have difficulties remembering everything I did here. You know, my goldfish memory still is a serious problem. Besides all the more serious stuff such as monuments, memorials, and museums, I also attended some typical American sports events. A few weeks ago, I went to an NBA game in Verizon Center. My roommate, a huge NBA fan, explained all of the rules and also provided me with a biography of every single player on the field. A short summary was also provided for most of the players sitting on the bench. This weekend, I attended an American football game at the FedEx Field. I noticed that both basketball and football have a lot of things in common. Of course, the ball looks slightly different, and you're not really supposed to kick the ball or tackle opponents in basketball. The similarities I am talking about mostly relate to the way the game is composed. It is not just about watching sports really. It is more of a sports experience. It's like a huge event that happens to have sports in it. The entertainment during the game is at least as important as the game itself. You have of course the cheerleaders, but during breaks you always have commercial information or little games as well. During the NBA game, a guy asked his girlfriend to marry him. Very romantic of course, but I always wondered what would happen if the girl said "no" in front of thousands of people. Luckily for the guy, it turned out well, and we were all cheering and applauding. Personally, I find all the breaks during the games a little bit distracting. I sometimes got the feeling that the entertainment wasn't there to fill the breaks, but that the sport was there to connect all the entertainment. However, it was really nice to have attended such a sports event once. Except if you are a huge Redskins fan because they lost their football game pretty badly...
Just in case you were wondering...
And this was of course not everything! We had several birthday celebrations in D.C., we went to the movies, I learned how to play charades, although I turned out to be really bad at it. We were really excited while playing charades, but hey, sometimes it is okay to act like you were 10 years old again!
You Zany Americans
Even after having to go to the hospital due to a caffeine overdose, TWC interns remain very enthusiastic!
I bet you never noticed, but the metro is painted in the colors of the French flag!
I have no idea what it is for, but it's nice!
Did you know that Belgium is the country with the most castles per square kilometer/mile in the world?
Did you know that there are more Puerto Ricans living outside Puerto Rico than on the island itself? Only 3.5 million Puerto Ricans live in Puerto Rico, while there are around 10 million Puerto Ricans worldwide. Most of them, over 5 million, live in other parts of the United States.