Rain, Cold and Election Stuff
Before I could come to D.C., I had to write what seemed like a few thousands of motivation letters for my faculty, for my university, for the government, for TWC, for some internship sites. One of the things that I wrote about over and over again, in every single one of them, was the midterm elections. On November 4th, most U.S. citizens could vote for 36 of the 100 Senate seats and all 435 seats in the House of Representatives. In Europe, we often hear stories about American elections.  They are captured by 'Big Oil' companies and Wall Street lobbyists, and campaigns usually become very negative and are played dirty. Also, the fact that the media is incredibly biased does not help. These are a lot of generalizations, but I wanted to know if there was any truth to them. Although following the elections in D.C. was really easy, it was much more difficult to really feel how an election campaign worked. There were no really exciting races around D.C. Everyone thought that the Democrat would easily win re-election in the Virginia Senate race, and of course Maryland would get another Democratic governor. However, as it turned out, polls can be wrong. Or very wrong.
Somehow, I got invited by the Democratic Party to join them on a campaign weekend in New Hampshire.  It was all very exciting, as New Hampshire was the scene of a toss up Senate race, two competitive House races and an unpredictable election for governor. The Senate race received a lot of media attention all over the U.S., and it would turn out to be the second most expensive one in 2014. On top of that, I was very happy to leave the D.C. bubble for once. I would finally be able to speak to some "ordinary" Americans! One problem: I had no idea what I was doing. I had never participated in an electoral campaign, and although I knew a little bit about the Senate race, I had no idea what the other candidates' viewpoints were. We were all a little less excited though, when we learned that we would make the ten-hour drive to New Hampshire in a minivan. I broke my back and hurt muscles in places where I didn't know you had muscles. It was totally worth it.
Besides competitive elections, people in New Hampshire are also known for their humility.
So, campaigning in New Hampshire. How do you do that, and what do you need?
- A warm jacket/coat, with lots of stickers of the candidates you will campaign for.
- Spare stickers, because they will fall off every two seconds.
- A bunch of flyers about the politicians you're campaigning for, euphemistically called "literature".
- Gloves, because if you don't wear them, your fingers will fall off after a while (read: 10 seconds).
- A scarf, because if you don't wear that, your throat will freeze.
- Shoes. Preferably without holes in the sole, unlike mine. When I was packing my stuff before coming to D.C., I noticed some shoes in the corner of my room. I started wondering why I never wore them anymore. While packing for the campaign trip, I remembered the shoes and decided that it was a great time to try them. After walking around for two seconds in rainy and incredibly cold New Hampshire, I remembered why I never wore them anymore in Belgium. These were the only shoes I brought. Every evening, I spent a lot of time blow-drying my shoes. And my feet. It was totally worth it.
- A fake identity, so people stop wondering why in heaven's name you're campaigning in a U.S. election while you can't even vote yourself. Our "campaign supervisor" introduced me as a Texan, and somehow people actually believed her! (I should totally put that on my resume!) Howdy y'all!
- Things you should bring, even though I didn't think of them: face protection, snow boots, thermal underwear, mobile fireplace, a tent suited for a North Pole visit. Seriously, it was cold.
So, what exactly did we do there? Phone banking, which means that you call people asking them if they are planning on voting, who they are going to vote for and if they please could vote for the [insert your party here] ticket. Knocking on doors, which means that you go from door to door, asking people if they are planning on voting, who they are going to vote for and if they please could vote for the [insert your party here] ticket. If someone has any questions, you have a script with some very strong arguments to convince the person you're talking to that [insert candidate's name] really is the greatest person you can imagine.  Also learning their names was very difficult, and it took me a long time before I finally knew them by heart. Okay, I never actually managed to do that. I just glanced at my script every time before knocking on the door. And then again when I was already talking to someone, as I obviously didn't remember the name(s) by the time someone opened the door. It's called a Goldfish Memory. Unfortunately, even goldfish themselves are smarter.
So, I've spent the weekend walking around in very rich neighborhoods but also in areas that did not make you happy. I talked to people who were very friendly and who thought we were very convinced of our cause, as we were almost freezing to death to spread our message. We also spoke with people who slammed the door in our faces as soon as they understood what we were about to ask. These conversations were limited to: "Good evening, we are volunteering for the…" "Bye bye". *Now you should imagine the sound of a door slamming. You should also include the little breeze that goes with it* I can't blame them for that, because for most of the houses we weren't exactly the first ones to knock on the door. On top of that, there were thousands of lawn signs and hundreds of television ads to remind people there was some kind of election coming up. And yes, the ads were sometimes very negative.
This is one of the only "negative" campaigns I remember from Belgium, by the Communist Party.
The slogan reads: stop the political circus!
But what else did I learn during that weekend? (This will be kind of the Zany Americans section for this week.)
Almost every house has an extra front door: some kind of glass door, which is supposed to protect the actual front door. My roommate – who magically turned out to be my roommate in New Hampshire as well – thought it was supposed to protect the front door from snow storms. I looked it up. I hate it when he's right.
Most of the houses have two front doors: sometimes, one is clearly meant for informal visits and one is meant to be the official one. But lots of times, both have a bell and it is really confusing, as you have no idea where to go.
Speaking of bells: lots of houses didn't have one. Or it didn't work. When they said we would be knocking on doors, they were not speaking figuratively. However, some houses looked so fragile, that it felt as you were trying to destroy the door. Which would have probably caused the house to completely collapse.
Apparently, no one thought of a good name for some of the cities in the area we went to, so they just took some European ones. We spent most of our campaigning career in Manchester, but we were also pretty close to Berlin, Hanover, Oxford... Why would you visit Europe? New England is pretty much the same thing!
Apparently, it is not allowed to put election flyers in or on mailboxes. If you do that, you commit a federal crime. Unfortunately, no one told me that until I already started spreading the good word and distributing flyers. In mailboxes.
Whoops...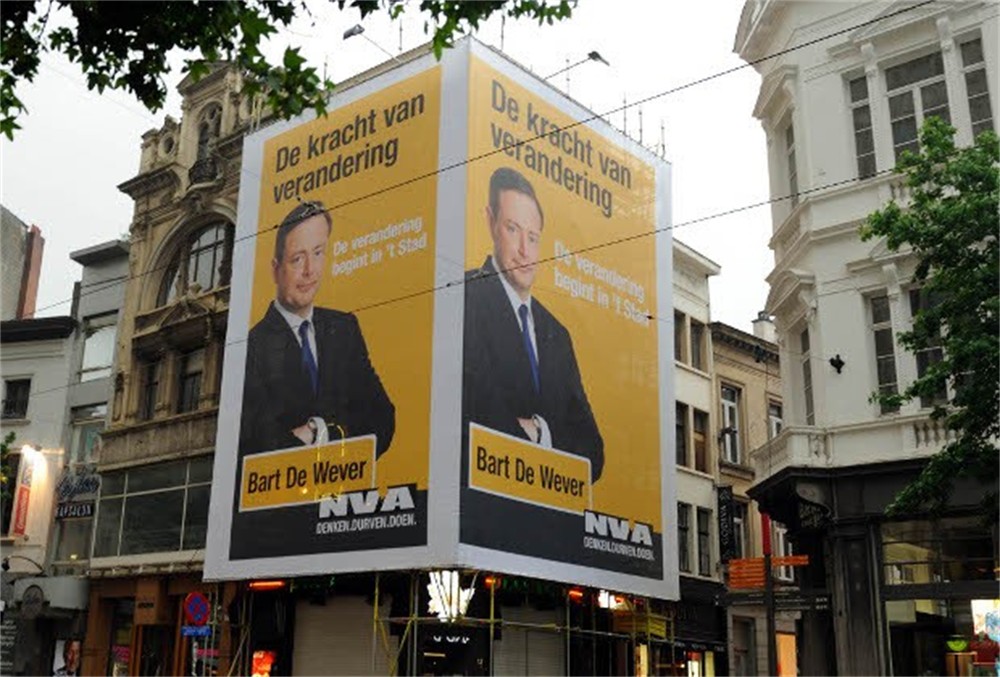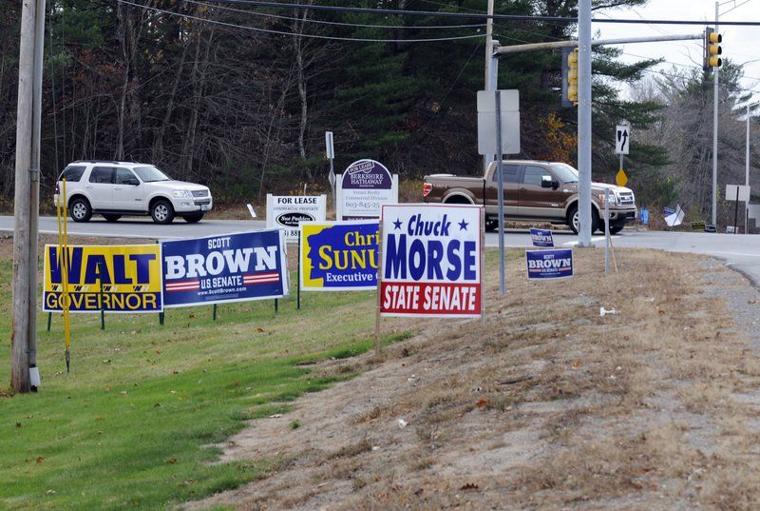 During election time in Belgium (top), the streets are filled with huge signs (although rarely as huge as this one), and most of them consist of three basic elements: the politician's name, a catchy motto and a picture that is supposed to make the politician look trustworthy. In the U.S. (bottom), the street signs only consist of a plastic lawn sign with the politician's name and the position he's running for, which makes it obviously a lot more boring. I am wondering though which method creates the worst environmental disaster.
Did you know that a Belgian Prime Minister-designate once sang the French anthem when asked if he knew the Belgian one? He also didn't know what we celebrated on our National Holiday!
Well, I bet you didn't know that!  Oh yes, 4 out of the 6 candidates we campaigned for were re-elected. Close enough!